Archil Magalashvili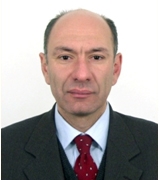 Archil Magalashvili – graduated from Tbilisi State University, geologist and engineer, holds PhD in Economic Geology, Professor, and Academician of the Georgian Engineering Academy. In 1981-2001 he as a scientist worked in Geological Institute of the Georgian Academy of Sciences and studied geology and geochemistry of gold, base metals, and other mineral resources. In 1992-1996 he was a Vice-chairman of the Georgian State Fund of National Valuables of the Ministry of Finance. During this period he established and managed some JVs producing precious metals from scrap, drafted laws and other legislative documents. In 1997-2005 he is a Project Expert, Project Manager and Engineering-technical Manager of the Georgian International Oil Corporation (GIOC), negotiated and worked on technical-engineering issues of the Baku-Supsa, East-West Energy Corridor Pipelines, and other projects; in 2001-2003 he is a Director General of Geo-Eng-Eco-Service Ltd an engineering, geological, and environmental company; from 2006 he is Senior Quality Manager and Strategic Project manager of the IDS Borjomi Georgia.
Archil worked with various project applicants and investors, international investment and financial institutions and donors on several infrastructural, environmental, scientific, technical and industrial projects. He certified and experienced in the field of Project Management, Strategic Planning, Standardization and Certification, Quality Management, Environmental, and HS.
Mr. Magalashvili is a member of International Associations of Energy Engineers (AEE), Georgian Geological, Mineralogical, and Oil & Gas Industrialists Societies and several scientific and expert commissions; Honored Engineer of 2004.
Mr. Magalashvili has organized and/or attended various international conferences, exhibitions and symposia worldwide. He is an author of more than 60 scientific works, books and articles, among which is Georgian-English-Russian Oil & Gas dictionary. He is lectured at Tbilisi and Ilia State Universities.